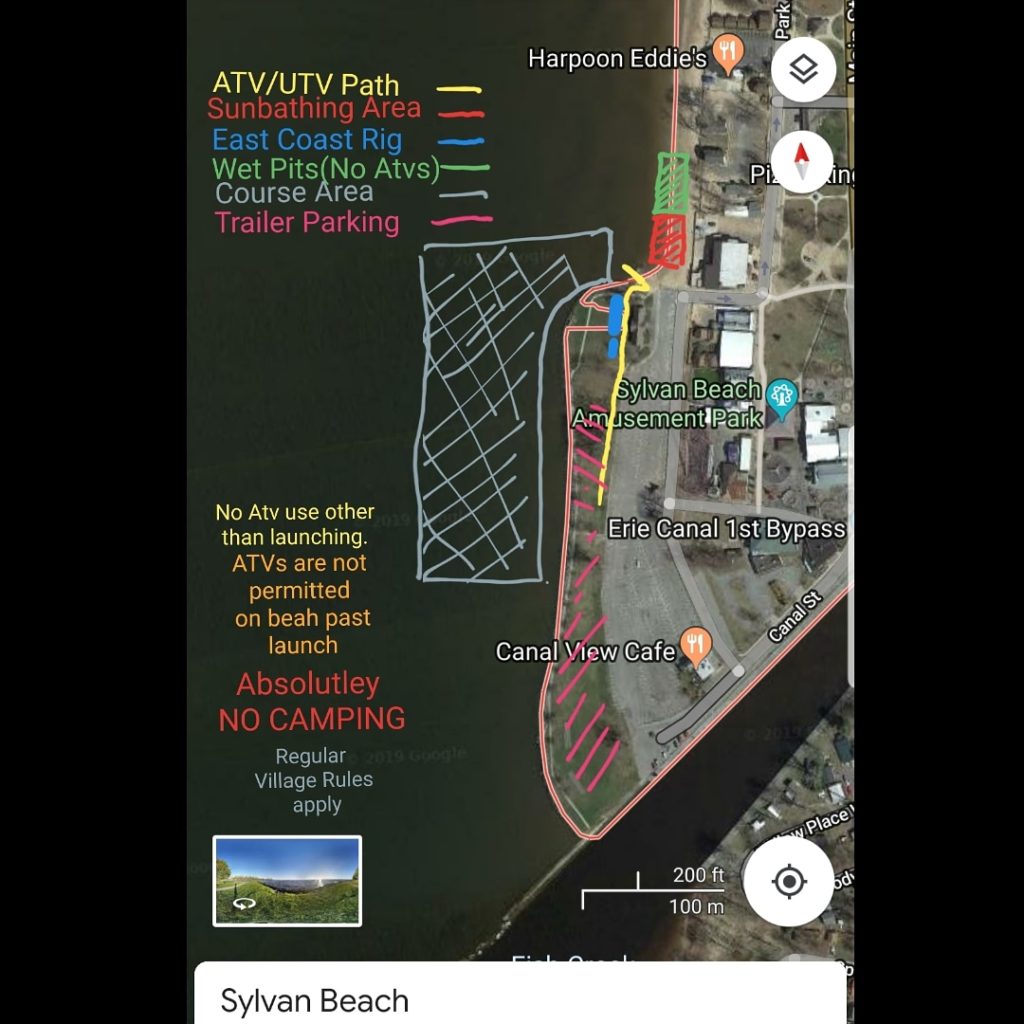 As many of you have heard, a change in the swimming area at Sylvan Beach has caused 3 months worth of meetings and changes. Local officials have worked diligently to make this event happen as planned, and we need to show our appreciation by pulling off the best event possible in this location! Please read all the details below and stay tuned to our social media for updates!
Please have your IJSBA Membership card, or if necessary register/renew online at www.IJSBA.com Please Note: site and event details are below Sylvan Beach Site Info: The event weekend location is: Sylvan Beach Amusement Park 112 Bridge St Sylvan Beach, NY 13157
Parking/Pit Area: • Parking will be between the Amusement Park paved lot and the water in the grassy area. Please pull straight in, and keep your pit area neat and clean. • Beach goers and residents will be parking in the lot, possibly blocking you in. If this is an issue you will need to park in an actual parking space • Trailers can be left overnight at your own risk, however absolutely no camping is allowed • We will have a few staff overnight to keep an eye out, however, your property again is left at your own risk.
Beach/Waterfront Specifics: • This venue has a clear sandy beach • skis can be beached, or on stands • There is no on site paved launch, watercraft must be launched off the beach or by using an off site launch ( plentiful in the area) • Watercraft will be launched at the first 10 feet of beach, ATV/UTV will need to be brought back to your trailer. No ATVS of any sort are allowed on the beach except in this designated launch area. • Dogs are not permitted on the beach, for more details please google and read site specifics. Our event does not change the normal town rules.
Pit Vehicle Specifics( town law is no atvs on the beach, this has obviously been an issue, and we have advocated for you. There will be a path for atv's, machines are to be used to load and unload watercraft only! Please park your machines at your trailer for the duration of the day and walk to the site): • ATV/UTV must NOT be used to transport people or equipment other than when a watercraft is attached and in tow in the beach area. • ATV/UTV Must be insured with proper paperwork available for local law enforcement. • No operators under the age of 16 will be permitted. • No free riding • No speeds above 5mph • No operation of pit vehicles before or after dark • No Pitbikes • ATV/UTV's will be permited along the amusement park side of our area on or near the side walk ( this space will be determined by local authorities not us) Race Course: • The entire race course area is strictly off limits, except during Course Marshall led course orientation and racing. • No one is to be on or in the course area without Course Marshalls on water. Violators will be DQd from the event. This is mandated by the terms of our Regatta Permit with the State.
Race Rules: • Racers meeting will be held at 9am both Saturday and Sunday and is Mandatory for all racers • Pre Registration will close Wednesday prior to the race at 9pm. Pre Registration is non refundable with the exception of hospitalization or death in the immediate family. • Pre Registration is the only way sponsors will be announced at the event, and ensure classes will be structured to not be back to back. • Racer position for Moto 1 is based on random computer generation. Finish order for Moto 1 will be starting position for Moto 2 • Top 5 Racers must bring watercraft immediately to the designated tech inspection or risk being DQ'd. Racers are responsible for dissembling/reassembling any parts required • All racers/holders must sign waivers during sign in. Participants must have PWC go through safety tech prior to racer's meeting • Racers are invited to bring family on to podium for awards, please dress appropriately due to photography. • There will be a "fast lane" for racers who have pre registered.
Concession/Selling/Drones: • Concession or selling of merchandise is not permitted on site. • Commercial photography must be approved with signed release. • Drones are not permitted.
Schedule: Saturday reg/sign in 730-830am Sat/Sun: Racers meeting 9:00am Course orientation: 930am Racing Begins: 10am Hotel/Camping Info: Local hotels are available, with many within 20 minutes. There is STRICTLY NO CAMPING per town by laws, violators will be DQ'd without refund of entry fees. Questions, please email us at Info@eastcoastwatercross.com See you there!