Site Location: 10 Memorial Beach Dr. Webster MA 01570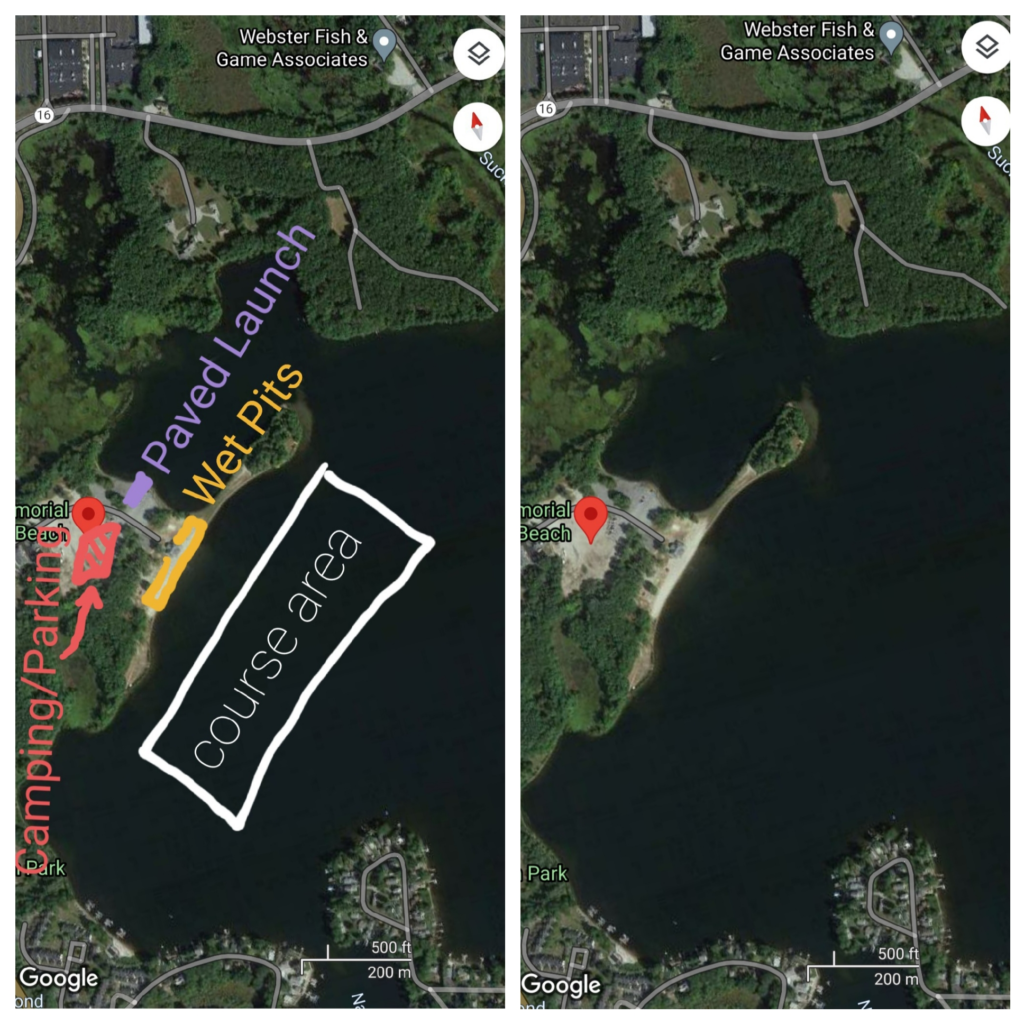 5/19/22 update
Good Morning Webster Athletes. A few very important site changes/notifications which have recently come up.
1. There will be a fishing tournament Sunday from the park. Participants have been made aware and our course area is off limits to fishing. This means however parking will be tight. We will have a better understanding of where to place people when we arrive tomorrow. Just keep in mind we need to help maximize space.
2. The Massachusetts DEP is now regulating our event. They have reminded us that watercraft must be registered to recreational ride on the lake. Younger boaters must have a safety card. All normal watercraft rules apply and you're encouraged to check their website to verify you're in compliance. Local law enforcement will be present both on land and water. This is due to complaints about atvs last season. There is a paved launch on the cove side of the property. You're encouraged to use this instead of moving about the park by atv. This launch is accessible by car/
3. Atvs must be insured. No riding of atvs is permitted unless you are moving watercraft to and from the water, any machine found to be operating without a jet ski attached will be disqualified from the event,both owner and operator of . All riders must wear a helmet, and no drivers under 16. No speeds greater than 5mph Again this is now being regulated by local authorities.
4. The weather will be hot this weekend so expect big crowds to attend. This is there local space and we need to be mindful of our use of their park.
5. Stay tuned to this page for updates as we get them.
SITE INFO
There is a paved boat launch on site. This launch is used by other boaters and is on the other side of the park than where our race occurs. Most participants launch their watercraft off the beach.
No dogs are allowed in the park
All specific park rules are posted on their website below. This includes Covid Protocols that must be followed with a zero tolerance policy. Any registered athlete, their family or crew who break these rules will be expelled from the event without refund and points will not be awarded for this location.
https://www.webster-ma.gov/296/Memorial-Beach
Camping will be allowed once again. This is dry camping in a mostly sand/dirt/grass parking lot on site. There are no fires allowed. Camping price includes 3 nights of camping ( Friday/Saturday/Sunday). Typically camping is not allowed at this location but the Town makes an exception for all of you. Please be extremely respectful, and leave the area better than you found it. Due to non payment in prior years by campers, payment for camping will now be collected by East Coast Watercross instead of the Town. Price is $100 and must be paid separately from registration on site, in cash only. There are bathrooms on site.
The official hotel for this event is: The Southbridge Hotel and Conference Center. Located at 14 Mechanic St. Southbridge , MA 01550. Please call an advise you are with East Coast Watercross to see if group pricing is still available.
Pit areas must be spaced at least 6ft from others.
Pre Registration will be open asap, we are awaiting final programming from the company we use. On site registration will be available, however due to Covid protocols, we strongly suggest pre registering and taking advantage of the discount to do so.
Race order is determined first by competing staff needs and spacing to allow them to leave their post and find a suitable replacement in time to race, then, based on pre registration to make every attempt to have racers in multiple classes spaced the best we can. On site registration does not guarantee spacing for multiple class competitors.